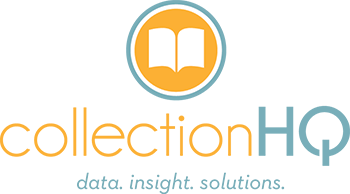 Baker & Taylor's collectionHQ is the world's most advanced collection performance improvement solution for public libraries. Sold as an annual subscription, collectionHQ is interoperable with any Integrated Library System (ILS) and offers a broad range of powerful tools to support your collection management and development process.
Communities need diverse and inclusive library collections that let patrons find material in which they see a reflection of themselves. Yet, curating and managing a collection that encompasses such vast human experience can be time consuming and challenging.
Baker & Taylor's Diversity, Equity and Inclusion (DEI) Analysis can help. This powerful tool analyzes your collection's fiction and non-fiction titles, identifying gaps and suggesting titles.
DEI Analysis supports you by:
Analyzing your collection using industry-accepted DEI topics
Identifying gaps at a system-wide and branch level
Evaluating representation of diverse populations in both print and digital collections
Providing ongoing monitoring of collections so you stay abreast of changing trends
Communicating your collection's diversity, equity and inclusion to community stakeholders
By ensuring all populations are represented in a collection, libraries not only support their communities, they help celebrate the differences that drive economic and social innovation.
See how DEI Analysis can help you.

Evidence-based Selection Planning (ESP) helps libraries have the right content at the right time in the ideal quantity and at the locations where it is needed most. By harnessing the same machine learning methods that drive Apple's Siri, Google's Assistant and the recommendation engines at Netflix and Amazon, ESP predicts how current and forthcoming titles will perform in your library's collection. When using ESP, you can improve discovery and engagement in your collection, while freeing up staff to focus on other tasks.
CollectConnect is an online tool that gives you quick and easy access to comparative statistics about libraries in your region and throughout the country. With CollectConnect, you can quickly identify peer libraries and then compare your library to them on hundreds of measures. You can easily compare tables and bar graphs, view averages and percentiles and drop the results into a report or presentation with a click of the mouse.
CollectConnect also allows you to compare your library to its own - or to others- performance over time. You can easily find out if circulation really is going down nationally or how your material expenditures per capita rate relative to your peer libraries. CollectConnect helps you identify the compelling data and statistics you need to make an effective presentation to your library board, city council or other funding organizations.

Content Café provides access to an extensive database of enriched bibliographic information. Currently consisting of almost 1.5 million full-size and thumbnail jacket art images, comprehensive tables of contents, and now a wide range of full text reviews, it integrates seamlessly with a library's Integrated Library System. Archived reviews from Publishers Weekly, Library Journal, School Library Journal, Criticas and the American Library Association's Choice: Current Reviews for Academic Libraries, rounds out an extensive collection that also includes Horn Book Guide and Magazine, Voice of Youth Advocates, BookNews, ForewordReviews.com and eStreams. Through this service, libraries can deliver this enriched content to their patrons without any of the costs of collecting and managing this data themselves.